Preserving History (and the start of a new Video Project)

I visited the overgrown remains of the Bracewell Observatory today. It is located in Stanford, and is a historic radio astronomy site. I was there to help my dad move out important documents from one of the dilapidated buildings slated for demolition. In the past month he has been spearheading a rescue effort to save the majority of the site from destruction (see more at his site,
Friends of the Bracewell Observatory
).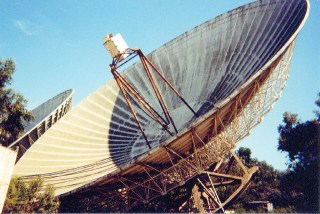 I also brought my video camera along to start taping for the documentary my dad has comissioned me to create. I am told that it will be a great aid to his fundraising efforts.
The name "Bracewell Observatory" is actually recent- when it was first built, it was referred to as "Site 515". The people who designed and operated the array (which was often used for solar observation) had a nickname for it: Heliopolis. I think that makes a fitting title for my documentary.
Heliopolis is going to be in the same vein as the Grenada Project. Though the subject matter will appeal to a more narrow audience, I will have the opportunity to visit the site and interview a wider range of people. Hopefully, this will result in a more media-rich presentation. I admit Grenada Project was sparse on the visuals at times, and of course we couldn't fly out to Grenada to shoot our own footage. That
is
an option for Heliopolis, as the observatory itself is less than half an hour away from my house.
I'm glad to be a part of the rescue effort. If we succeed, restoration of the site will begin and in a few years we may even have a small museum up and running. If we fail, not all is lost. We have already recovered log books, photographs, schematics, and shot video of the site that will aid in the historical preservation of the Bracewell Observatory, if not the physical. I'll keep you posted on any big developments.